Famous Mosques in Tripoli :
Abu Baker Al Siddik Mosque is located on the way between "Bahsass " and " Al Nour " square , facing the " Sarayah ". The mosque contains a big conference hall and besides it is the main headquarter of " Jamaaiat Makarem Al Akhlak Al Islamiah ". The outdoor walls are covered by beautiful white stones.

A beautiful garden surround the mosque with large palm trees.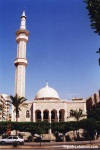 Photo by
Eng.Lamia KHAYAT
All Rights Reserved