Famous Mosques in Tripoli :

History

A late Mamluk period building of Tripoli is the Arghoun Shah mosque built in the last quarter of the fifteenth century, less than fifty years before Tripoli fell to the Ottomans. Its south side has been rebuilt and painted but the east façade which stands along a picturesque little Street has been left untouched, as well as its minaret. In addition to six bands of stalactite friezes which decorate the round body of the tower, the minaret's ten sided balcony has ten stone screens of richly carved Arabesque and geometric patterns, each one entirely different from the other. They are by far the most elaborate stone screens found in Tripoli and perhaps in all of Lebanon..

Over the main entrance of the mosque is a decree dated October16, 1475 (A.H.880) issued by the military cabinet of Sultan Qaidbey at the time Azdemir al-Ashrafi who was governor of Tripoli. It specifically forbids that the agricultural land bequeathed by Arghoun Shah for the endowment of the mosque be leased to the wealthy to cultivate. On the contrary the field in question should be leased to the poor so that peasants of limited means could work on the land and profit thereof."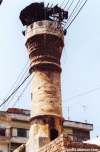 Photos By
Eng.Lamia KHAYAT
All rigths reserved