Places to visit in Tripoli-Lebanon :
There is several new and old fountains in Tripoli scattered in the city. One of the most famous fountains is the one located in " Mashiyyeh " in Al-Tall Square.Not far from " Al-Mashiyyeh" there is another relatively new fountain in front of the municipality " Baladiyyeh ".

At the New entrance of Tripoli and on the road to El-Mina we find an new constructed fountain, an older one used to exist in the same place before renovation work took place.

A very famous old fountain called " Millaha " can be found in the old souk.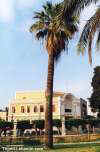 Baladiyyah Fountain

Mashiyyeh Foutain

Tripoli's Entrance

Millaha
Photos By
Eng.Lamia KHAYAT
All Rights Reserved