BULLDOGS superboot Hazem El Masri only needs one goal – but he has never kicked in the unfamiliar surrounds of Brookvale Oval.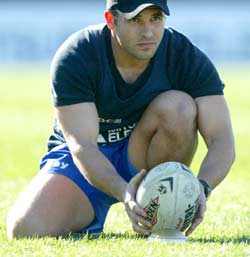 The man who made his Test debut last year after immigrating from Tripoli, Lebanon, as a boy needs only one more goal to set a record for most consecutive conversions in Australian rugby league.
Six more and he will enter the Guinness Book Of Records.
The men whose marks he is attempting to surpass are former Bulldogs teammate Daryl Halligan and former Kiwi rugby league star Henry Paul.
El Masri has already equalled Halligan's mark of 30 goals in succession and can become the undisputed champion with one successful conversion against Manly tomorrow.
If he can then stretch his remarkable run for another five goals he will set a world record.
But he must do so having declared he will not shirk a difficult conversion no matter the circumstances while also taking aim on a ground he has never kicked a goal on before.
"The Bulldogs haven't played at Brookvale Oval for ages so I have actually never had the chance to kick a goal there," El Masri said.
"The nerves are also starting to build up a little after all the hype around it but I've just been trying to make the week as normal as possible.
"But I am very aware of the record because everyone keeps on emphasising it so hopefully someone will score under the posts and make my life easier.
"Now that I'm equal [with Halligan] it's just a relief. If the records continue to come from here then that's great. But if not then it just wasn't meant to be."
El Masri spends up to two hours a week honing his skills as the NRL's best marksman at the Bulldogs' two home grounds, Telstra Stadium and Sydney Showground.
He credits his remarkable accuracy to his 10-year stint playing soccer as a youngster after his parents moved to Sydney from Lebanon.
"Thank god I was kicking from a young age. I played soccer for 10 years and had all the co-ordination and everything going for me," El Masri said.
The Bulldogs flyer also has a host of other records this season in his sights, including Mick Cronin's 123 goals in a season and Ivan Cleary's 284 points in the one year.
At the moment El Masri has piloted 101 goals between the uprights this year and has 230 points at an average of 11 a game.
El Masri yesterday walked The Daily Telegraph through his meticulous routine ahead of tomorrow's match.
PLACING THE BALL
The Bulldogs winger likes to take his time adjusting the ball to the correct angle, which depends on exactly whereabouts you are lining the goal up from on the field.
THE ANGLE
"With a kick from the sideline you have to make sure you follow through the whole way.
"It's not about just going in there and bashing the ball, anyone can do that."
THE WIND
El Masri believes the wind factor can be crucial to the outcome of a conversion. He said he almost always checks the swirl on a windy day by picking up some loose grass and tossing it into the air.
THE ADDRESS
"Basically you just have to aim for something and being a right footer you know the ball is going to curve a little from right to left.
"So that's what I always aim at. That right post and get the ball to come around a little bit."