Famous Mosques in Tripoli :
An early mosque of the Ottoman period is the al -Muallaq near the south end of Tripoli's main street of the souks, facing the al-Tinat fountain. It is set on top of an arched passageway and access to it is by a flight of stairs, hence its name mu'allaq, the "Hanging Mosque". It was built by Mahmud ibn-Lutfi, Ottoman governor of Tripoli during the reign of Suleiman the Magnificent .The portal of themosque displays alternating black and white bands of stonework. It has a stonework octagonal minaret, unadorned except for two bands of black stone half way up the structure and a carved stone screen around the upper balcony with its octagonal roof. Below the upper balcony is another one with arches on all eight sides.

The inscription of its founder is engraved on a stone block and set above the lintel of an interior doorway. It contains a surat of the Holy Koran (LX.18) and ends: "This blessed mosque has been built by the pious servant Mahrnud, son of the deceased Lutfi, the Master, may Allah have pity on him. The construction was completed in the month of rabii 967 (December 1559). The contents of the inscription and the letter forms bear a resemblance to the late Mamluk period inscriptions and decrees.
Photo Gallery
Click on the image to go to the photo Album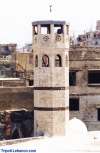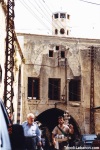 Photos By
Eng.Lamia KHAYAT
All Rights Reserved