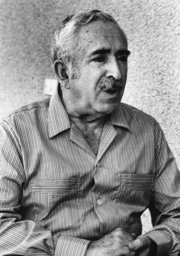 Rashid Abdul Hamid Karami (December 30 1921 – June 1 1987) was a Lebanese statesman. He was one of the most important political figures in Lebanon for more than 30 years, including during much of Lebanese Civil War (1975-1990), and he served as Prime Minister eight times.
Rashid Karami was born in Mariatta, near Tripoli, into one of Lebanon's most prominent political families. His father, Abdul Hamid Karami, was Prime Minster for a few months in 1945, and his younger brother, Omar Karami, has served as Prime Minister three times, most recently from 2004 to 2005.
After graduating from Cairo University with a Law degree in the 1940s, Karami established a legal practice in Tripoli. He was elected to the National Assembly in 1951 to fill a vacancy caused by the death of his father. In the same year he became Minister of Justice in the government of Prime Minister Hussein al Quwaini. In 1953 he was appointed Minister of the Economy and Social Affairs in Abdallah al Yafi's government.
Between 1955 and 1987, Karami held office eight times as Prime Minister, under every President. These terms were from 1955 to 1956, 1958 to 1960, 1961 to 1964, 1965 to 1966, 1966 to 1968, 1969 to 1970, 1975 to 1976, and from 1984 until his death. He also served as Minister of Foreign Affairs several times. He had a stormy relationship with Lebanon's Presidents, who appointed him because of his political connections, despite substantial political differences.
Karami was a strong proponent of the rights of Lebanon's Muslim community, which in his time increased to outnumber the Christian population for the first time in Lebanese history, causing major ripples in the social fabric of the country. He attempted, without success, to gain greater representation for Muslims in the National Assembly, where they were allocated 45 percent of the seats, a figure that was not adjusted to take account of changing demographics. In 1976, Karami helped broker an agreement to provide for equal parliamentary representation of Christians and Muslims, but this agreement was never implemented. One concession that was made by Christian politicians was to allow legislation signed by the President to be countersigned by the Prime Minister, from 1974 onwards, giving the Prime Minister (always a Sunni Muslim) an effective veto.
Karami was a part of the Islamic Leftist faction in Lebanese politics. During the 1950s, he was a political follower of the Pan-Arabism of Egyptian president Gamal Abdel Nasser. His was first appointed Prime Minister by President Camille Chamoun on September 19 1955. By the following year, however, he had seriously fallen out with Chamoun over the latter's refusal to sever diplomatic relations with the western powers that had attacked Egypt in Suez Crisis of 1956. He again opposed Chamoun in the Lebanon Crisis, a Nasserist uprising with considerable support in the Muslim community which erupted in May 1958 and attempted to topple the government and join Egypt and Syria in the new United Arab Republic. By September, when Chamoun had quelled the uprising with the aid of United States Marines, Karami formed a government of national unity under the new President, Fuad Chehab.
Karami served four more times as Prime Minister throughout the 1960s. During this time, he championed the Palestinian cause, and is believed to have argued for Lebanon to play a more active role against Israel in the Six Day War of June 1967, a position which was unpopular with many Christians. Increasing clashes between the Lebanese army and the Palestinian Liberation Organization forced his resignation in April 1970, but he soon returned to office after an accord had been signed between Lebanon and the PLO. In August that year, however, Suleiman Frangieh, an enemy of Karami's, was elected President. Karami resigned and was succeeded by Saeb Salam.
Civil war erupted in Lebanon in April 1975. Multiple factions were involved and the political and military situation was extremely complex, but broadly speaking, the civil war was fought mainly between right-wing, mainly Christian militias (the most prominent of which was the Phalange), and leftist, mainly Muslim militias and their Palestinian allies. Desperate to stabilize the situation, Frangieh dismissed Prime Minister Rashid Solh and called on his old adversary Karami to form a government on 1 July. He retreated somewhat from his previous strong support for the Palestinians and supported the Syrian military intervention of June 1976. Despite Karami's political connections many years of experience, he was unable to end the war, however, and on 8 December 1976 he resigned. Elias Sarkis, who had succeeded Frangieh as President in September, appointed Selim al-Hoss as the new Prime Minister.
Karami was reconciled to his old enemy, Suleiman Frangieh, in the late 1970s, after Frangieh had fallen out with the Phalangist militia leader, Bachir Gemayel. Together with Frangieh and Walid Jumblatt, Karami founded the National Salvation Front, pro-Syrian coalition of Sunni Muslim, Druze, and some Christians, mainly in the north of Lebanon. The National Salvation Front stood in opposition to the Lebanese Front, a right-wing coalition of mainly Christian parties.
In April 1984, following conferences in Switzerland, Karami became Prime Minister for the eighth time, heading government of national reconciliation. This period saw increasing Syrian influence in the wake of the partial Israeli withdrawal following their invasion of Lebanon in 1982, which Karami had strongly opposed. In 1986 he rejected the National Agreement to Solve the Lebanese Crisis, which had been drafted with minimal Sunni Muslim participation. This opposition created a tense relationship with President Amine Gemayel. Continuing problems led Karami to resign on May 4 1987, but Gemayel, seeing no viable alternative, refused to accept his resignation.
Just under a month later, Karami was killed in a helicopter crash near Beirut. His helicopter was brought down by sabotage as part of an assassination plot. He was succeeded by Selim al-Hoss. In 1999, Samir Geagea and 10 other members of the Lebanese Forces, a Christian militia group which had absorbed the Phalange, were convicted of Karami's murder and given long prison terms
BIOGRAPHY
1921: Born in Tripoli, into a religious Sunni Muslim family.
1940's Receives a degree in law from Cairo University, and sets up a legal practice in Tripoli.
1950: Following the death of his father, Karami becomes the leader of the local Muslims, and takes his seat in the parliament.
1951: Becomes Minister of Justice in Hussein al Quwaini's government.
1953: Is appointed Minister of Economy and Social Affairs in Abdallah al Yafi's government.
1955 September 19: Becomes prime minister under president Camille Chamoun.
1958 May: Karami takes the side against president Chamoun under the 2 month long civil war.
— September: Karami forms a national unity government.
1970 April: Karami's government has to resign after clashes between Palestinian commandos and the Lebanese army escalated. Karami returns however to office after an accord had been signed between PLO and Lebanon.
— August: With the new president Suleiman Franjieh taking office, Karami has to resign and is succeeded by Saeb Salam.
1975 May: After the start of the Lebanese Civil War in April, prime minister Rashid Solh is asked to resign by president Franjieh, and Karami forms a government. Franjieh hoped this would bring stability and an end to the civil war.
1976 December: New president Elias Sarkis appoints Salim al-Hoss as new prime minister, and Karami resigns.
1982 June: Following the Israeli invasion, Karami joins in on the anti-Israeli side.
1984 April: Karami heads the national reconciliation government, following conferences in Switzerland.
1986: Karami rejects the National Agreement to Solve the Lebanese Crisis, which had been drafted with minimal Sunni Muslim cooperation. This creates a difficult relationship with president Amin Gemayel.
1987 May 4: Karami's government announces its resign. President Gemayel rejects this, as there were no other realistic prime minister candidates.
1987 June 1: While still being prime minister, Karami is killed by a bomb exploding in his helicopter.
References : answers.com