Famous Mosques in Tripoli :
HistoryThe al-Tawbat mosque, originally was a Mamluk construction but it was destroyed in a flood which occurred in Tripoli in the year 1612 during the reign of Ottoman Sultan Ahmed I. An inscription on a bronze plaque set in a wall of the mosque speaks of its destruction and restoration by Hussein, son of Yusuf Pasha al-Saiifi, governor of Tripoli . "Praise be to Allah", the inscription states, 'who has bestowed upon his servant a multitude of favors, enabling him to carry out this good deed.., to restore this noble mosque, for the love of Allah the Generous, after the destruction of its walls, its pulpit, its mihrab (prayer shrine), and its ablutions fountain by the great flood which occurred on the 16 of the month of dhu-1-qa'da of the year 1020 (January 20, 1612)) Although it sharesthe minaret of the al-Dabbaghin or Tanners' Mosque, this construction belongs to the Ottoman-period religious structures of the city. The mosque's central arcaded court has a domed fountain with four octagonal pillars with stalactites and palm -leaf motif capitals. The interior of the dome over the main entrance is notable for its delicate geometric sculptured decoration.

On the wall facing the entranceway is a four line inscription, a decree of Mamluk Sultan Shaikh made in the year 1414 (A.H.). This is a repetition of the decree by the Sultan which appears in the Grand Mosque of Tripoli. It condemns the hoarding of wheat, meat and bread and the subsequent sale of these vital foodstuffs at high prices. The decree abolishes these abuses which it states, were to the prejudice of the inhabitants of Tripoli. Miraculously the flood waters of the Abou Ali in 1612 did not wash away the decree.
Photo Gallery
Click on the image to go to the Photo Album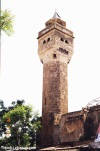 Photos By
Eng.Lamia KHAYAT
All Rights Reserved